The Trials of Tenducci
A Castrato in Ireland
Irish Baroque Orchestra, Peter Whelan, Tara Erraught
Linn Records CKD 639. 65'57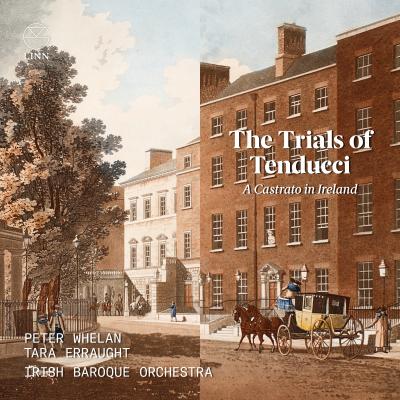 Following their 2019 recording Welcome home, Mr Dubourg, Peter Whelan, and the Irish Baroque Orchestra return to their explorations of the musical heritage of Dublin, in this case in the shape of Giusto Ferdinando Tenducci (c1735-90), a notorious Italian castrato singer who spent 3 years there in around 1765. He was born in Siena and first came to London in his early 20s. Apart from his brief time in Dublin and a very short return in later years, he spent most of the rest of his life in London. During his time in London he had contact with Johann Christian Bach (the 'London Bach'), singing the title role in his opera Adriano in Siria. He briefly taught singing to the c20 year old Mozart in Paris, and received a now-lost concert aria in return.
The music and composers on this recording have rather tenuous connections to Dublin (and, at tie, Tenducci) but what matter, the programme is interesting in its own right and reveals some little-known composers through several first recordings. One such is the opening Symphony in G by Pierre van Maldere, a Belgian composer who was active in Dublin between1751 and 1753. This Symphony was published in Paris but, according to the programme notes "may have been composed" in Dublin. If you are like me, the big decrescendo seconds after the boisterrous start may lead you to adjust the volume, but don't – it is short lived and, although rather unusual, does give an indication of the range of emotions expressed in several of the pieces.
Tommaso Giordani was an Italian who first visited Dublin in 1764, returning in the 1780s to found a short-lived opera company. His 1785 'Celebrated Overture' to The Island of Saints ends with an Irish Medley. Two of Giordani's songs that were particularly associated with Tenducci are included, along with his three-movement overture to the pantomime The Island of Saints (1785).
Mezzo Tara Erraught has the emotional depth and technique to master the complexities of the music, although her alarmingly strong and persistent vibrato is unsettling and reduces the effect of what could well have been ideal intonation. There is an enormous repertoire that would suit her voice, so I am not sure I understand the logic of using her alongside a period instrument band with such strong 'authenticity' pretensions. Those attuned to period performance should listen before buying.
A sideline to the music is the revelations about Tenducci's rather colourful life in London and Dublin, that latter including twice marrying a 15year-old pupil.