Lamento
Cafe Zimmermann, Damien Guillon
Outhere/Alpha 626. 69'06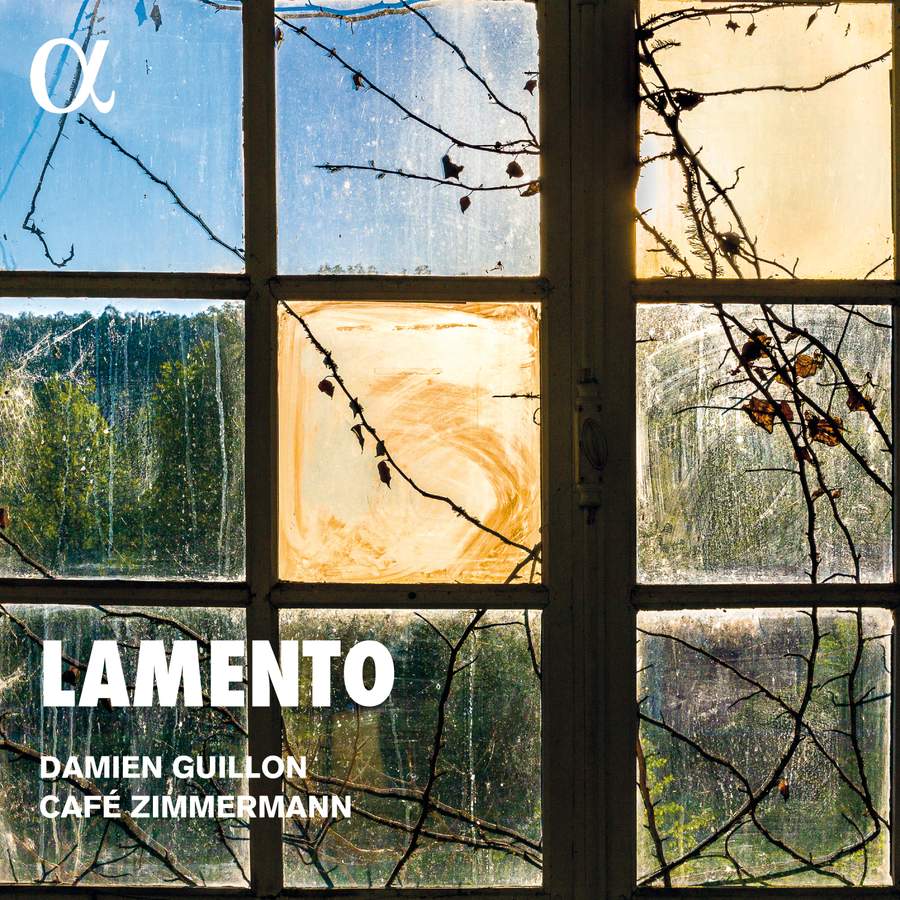 Literary history is full of laments, from the very earliest writings. They occur in all religions and have been the foundation of much musical expression in all parts of the world. So an entire CD devoted to such Lamento is not such an unusual approach to building a satisfying musical programme. And this recording from the French ensemble Café Zimmermann fulfils the brief excellently with music from the 17th-century German speaking realms.
The opening piece is a curiosity that doesn't quite fill the usual assumptions about a Lament. Schmelzer's Serenata a cinque stems from the Viennese Court's custom of Fasching, a Shrove Tuesday carnival. The folk-based ceremonies included the Emporer and Empress dressing as innkeepers and serving their couriers, who were dressed as peasents. A subtitle for the piece is "Sorrowful mourning for the Death of Saint Carnival, 1667". The instrumental piece includes the tolling of a funeral bell, as the Carnival is put to sleep until next year.
More traditional laments come, notably, from two members of the extended Bach family, Johann Michael and Johann Christoph, both outstanding examples of music from the lesser-known members of that extraordinary family. Johann Christoph Bach's Ach, dass ich Wassers gnug hätte is one of the most moving examples of the genre, the ebb and flow of the tears reflected in the accompaniment. The Bach laments are separated by Schmelzer's moving instrumental Lamento on the death of Emperor Ferdinand III.
The vocal soloist is countertenor Damien Guillon, his pure-toned voice blending well with the instruments. A rather un-lament like solo organ Toccata by Froberger represents the Frescobaldi-inspired Italian keyboard music that so influenced European keyboard music, and is played beautifully by Céline Frisch. The programme finishes with the solo violin and Biber's Passacaglia from his Mystery Sonatas, played by the Cafe Zimmermann director, Pablo Valetti. The eight instrumentlists play with intensity and passion, as befits the varying moods of the music.
Iit was recorded at the Abbey of Saint-Michel-en-Thiérache, France, the generous acoustic captured well by the recording engineers with only the concluding violin solo sounding a little washy. More information can be found here.
Johann Heinrich SCHMELZER (c.1623-1680)
Serenata a cinque
Heinrich Ignaz Franz BIBER (1644-1704)
O Dulcis Jesu
Mensa Sonora (Pars iii)
Johann Michael BACH (1648-1694)
Ach, wie sehnlich wart ich der Zeit
Johann Heinrich SCHMELZER
Lamento sopra la morte Ferdinandi III
Johann Christoph BACH (1642-1703)
Ach, dass ich Wassers gnug hätte
Johann Jakob FROBERGER (1616-1667)
Toccata II (libro secondo, 1649), Ricercar I (libro quarto, 1656)
Christoph BERNHARD (1628-1692)
Was betrübst du dich
Heinrich Ignaz Franz BIBER
Passacaglia (Rosenkranzsonaten)