Edinburgh 1742: Barsanti & Handel Parte Seconda
Ensemble Marsyas, Peter Whelan
Colin Scobien, Elizabeth Kenny
Linn CKD 626. 51'51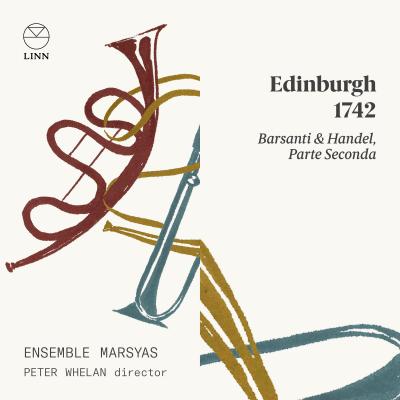 The Italian Francesco Barsanti (c1690-1775) arrived in London in 1723 and moved to Edinburgh in 1735 to join the Edinburgh Musical Society. This is a follow up to the 2017 recording by Ensemble Marsyas, CDK 587 (reviewed here), and completes Barsanti's set of Op.3 Concerto grossi, together with four pieces from his Collection of Old Scots Tunes, both published in 1742. Barsanti's connection with Handel is represented by the latter's Overture to Atalanta, HWV 35, a piece in the possession of the Edinburgh Musical Society.
The last five of the ten Op.3 Concerto grossi feature a solo trumpet and two oboes, a contrast to the music for horns in the first half of the set. The four Old Scots Tunes (Dumbarton's drums, Ettrick banks, The bush aboon Traquair and Cornriggs are bonnie) are performed by Colin Scobie and Elizabeth Kenny (violin and Baroque Guitar).
Including Handel In programmes of pieces by his contemporaries is always high risk, bearing in mind the quality of Handel's music. This occasion is no exception, with Handel's trumpet-dominated Overture to Atalanta rather overshadowing Barsanti's music. Of course, Barsanti's concertos were intended for the gentlemen of the Edinburgh Musical Society rather than the professional London orchestras that Handel was composing for. They are masterly little essays on compositional form, with some lovely slow movements and a very dramatic concluding Allegro to the Concerto Op3/8.
The trumpet is played by the go-to period trumpeter, David Blackadder, with oboeists Alex Bellamy and Hannah McLaughlin and timpanist Alan Emslie also making their presence felt.