Jacob Regnart: Missa Christ ist erstanden
with Missa Freu dich, du werthe Christenheit and motets
Cinquecento
Hyperion CDA68369. 64'45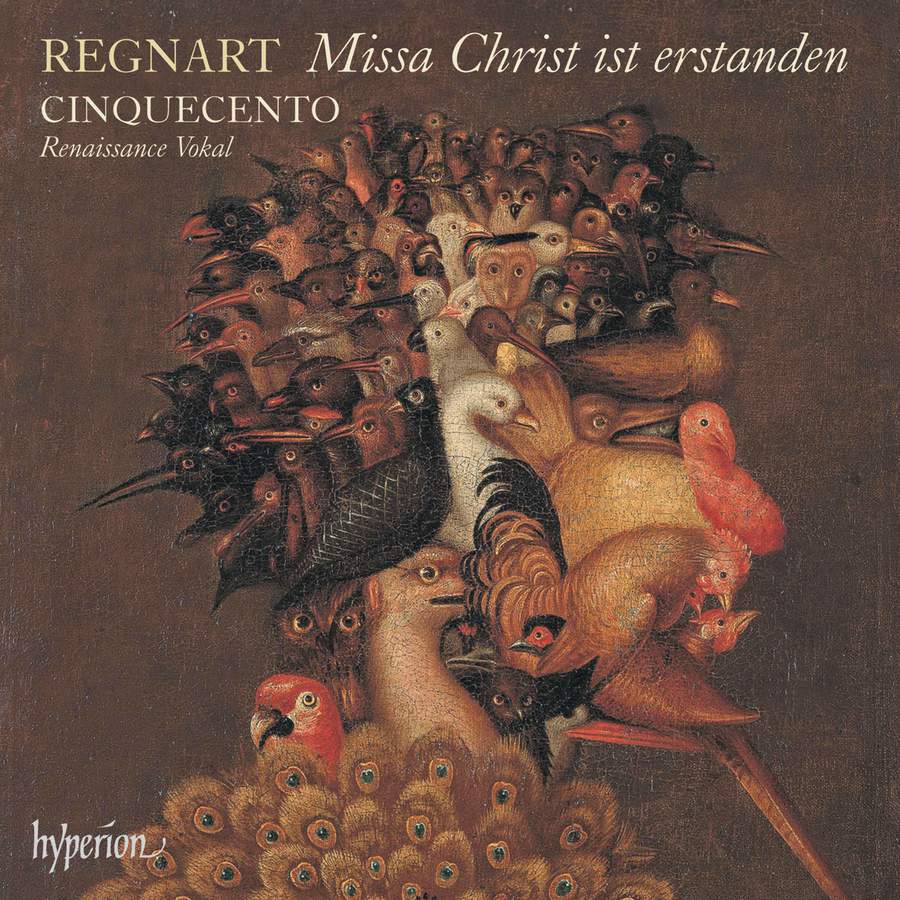 Jacob Regnart (c1540-1599) is one of the lesser-known Flemish born composers who dominated European music during the 16th-century. Born in Douai, he soon moved to Prague, singing in the Habsburg Holy Roman Emperor Maximilian II's Hofkapelle. His career remained within the Hapsburg realms, rising through the ranks under three successive Hapsburg rulers. He spent several years in Innsbruck in the court of Maximilian's brother Archduke Ferdinand II, where much of his sacred music seems to have been composed, although it was not published until after his death. Those works include the two Mass settings included on this excellent recording from Cinquecento (Terry Wey, countertenor, Achim Schulz & Tore Tom Denys, tenors, Tim Scott Whiteley, baritone, and Ulfried Staber, bass).
Both Masses are based on what we would probably normally consider as Lutheran Easter chorales but are in fact taken from the Catholisches Gesangbüchlein hymnal. This was published in Innsbruck in 1588 to reinforce the notion that singing 'Old Catholic Easter Songs' in local languages was also a Catholic tradition and that the Protestant use of them was 'seductive and frivolous'. It makes these Mass settings almost unique amongst the more usual polyphonic Latin motet-based settings. It also makes it much easier to follow the monodic thematic development, notably in the first Mass, based on the ancient hymn Christ ist erstanden, perhaps better known in its Lutheran incarnation as Christ lag in Todesbanden.
Both Masses are preceded by the relevant unison sung hymns. Each of the Mass movements opens with the first phrase of the hymn melody which is then treated in a variety of ways, often reflecting the mood of the underlying text. Erika Supria Honisch's excellent programme notes give several examples of how Regnant varies the texture.
After the death of Ferdinand, Regnart returned to Prague and the court of Emperor Rudolf II. He had earlier turned down the possibility of a post in the Lutheran Saxon court despite the encouragement of a glowing reference from Lassus, preferring to remain with the Catholic Hapsburg domains.
Alongside the two Masses, the Marian motet Maria fein, du klarer Schein, a stanza of the 15th-century song Maria Zart and two of the sacred re-texting of Italian love songs that originally made Regnart famous.
The singing by Cinquecento is outstanding, with a superb balance between the five voices, countertenor voice (often an issue in such consorts) blending beautifully into the overall vocal texture. It is recorded in the generous acoustic of the Mauerbach Charterhouse, on the outskirts of Vienna.