Leuven Chansonnier Vol. 1
Sollazzo Ensemble, Anna Danilevskaia
Passacaille PAS1054. 62'02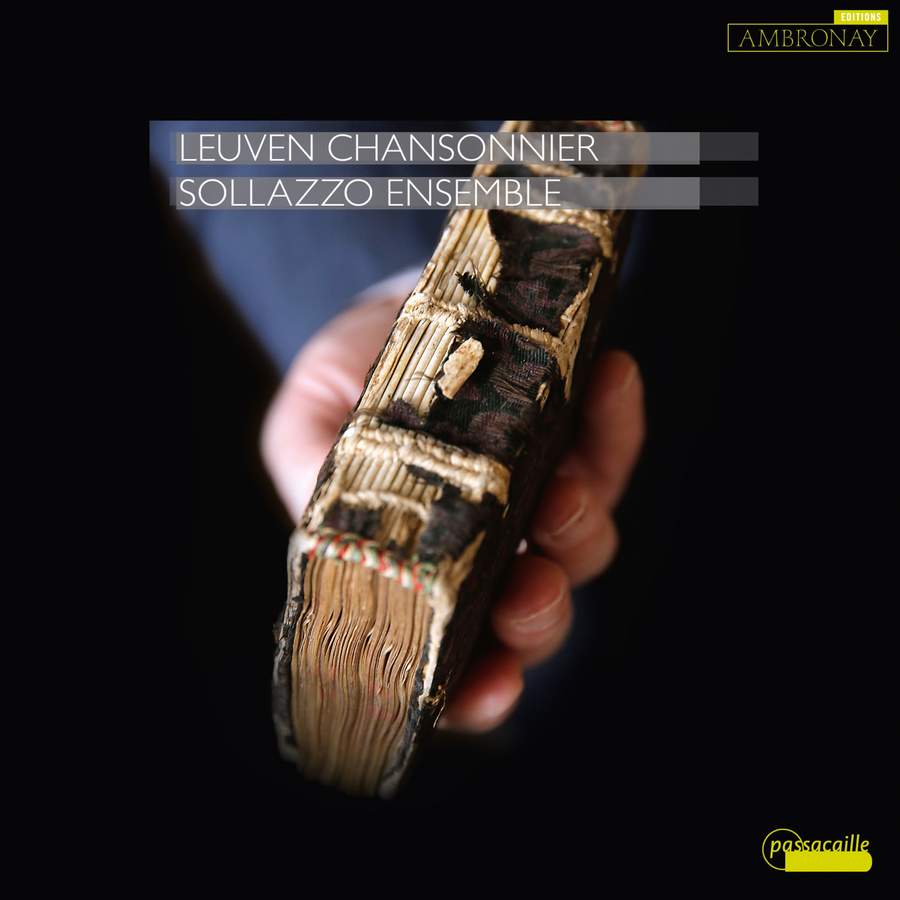 The Leuven Chansonnier was discovered in 2015 when an art historian approached the Alamire Foundation with a tiny (120x85mm) music book. It turned out to be a previously unknown 15th-century book of chansons. It has been dated to around 1475, and probably originated in the Loire Valley. It was purchased by the King Baudouin Foundation and loaned to the Alamire Foundation in Leuven. As there is no indication of original ownership or provenance, it has been called the Leuven Chansonnier. It contains fifty compositions, a Latin Ave Regina by Walter Frye and 59 French chansons, many of which were recognised as being by leading 15th-century Franco-Flemish composers such as Johannes Ockeghem. There are twelve previously unknown works, eight of which are included on this CD.
The Leuven Chansonnier was the focus of the 2018 Laus Polyphoniae festival held in AMUZ, Antwerp when all 50 compositions were performed but several different ensembles, including the Sollazzo Ensemble. They were formed in 2015 in Basel by vielle player Anna Danilevskaia. They were past members of the eeemerging project and winners of the 2015 York Early Music International Young Artists and Friends Prizes, and the Cambridge Early Music Prize. Two previous recordings (which I have not heard) have both been awarded a Diapason d'Or. I have heard and reviewed them in concert twice, during the 2018 Regensburg Tage Alter Musik and the 2019 Laus Polyphoniae in Antwerp. They are very impressive, an impression reinforced by this recording.
As well as the obvious importance of an insight into this fascinating repertoire, the performance by the Sollazzo Ensemble is excellent, There are three singers, Perrine Devillers & Yukie Sato, sopranos, and Vivien Simon, tenor, although it is not revealed which of the two sopranos are singing on which track. But both are very impressive, with clear and stable voices. The accompaniments by the four instrumentalists are well-judged and appropriate to the settings, with the addition of a flute in some of the chansons, played by Johanna Bartz.
Texts and programme notes are in English, French and German.
Anon: Helas, lavoy je desservy
Johannes Ockeghem: Ma bouche rit
Michelet: Sil advient que mon dueil me tue
Johannes Ockeghem: Fors seullement
Gilles Binchois or Guillaume Dufay: Je ne vis onques la pareille
Anon: Tant est mignonne
Anon: Jay pris amours
Johannes Ockeghem: Dun aultre amer
Anon: Escu dennuy (*)
Anon: Henri Phlippet (*)
Anon: Jay des semblans (*)
Gilles Mureau: Je ne fays plus
Anon: Ravi damour despourveu de bon sens
Anon: Tousdit vous voy (*)