Stile Nuovo
Weihnachtsmusik Von Christoph Sätzl & Marienvesper im Dom zu Brixen 1641
Odhecaton, La Venexiana, Prishna
Musikmuseum 41, CD13040. 2CDs 59'12+57'57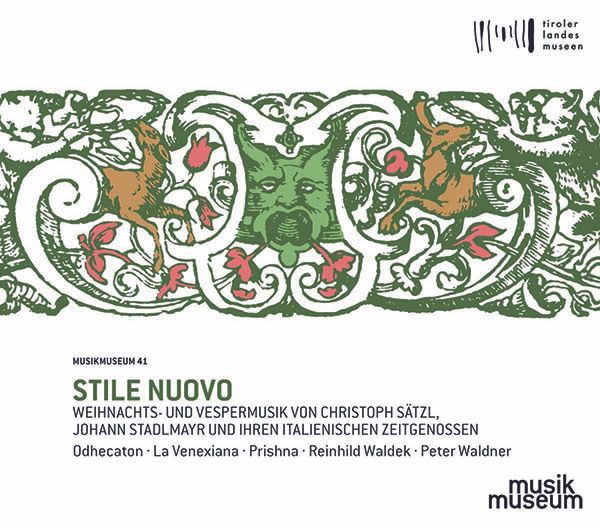 I have been sent several CDs published by the Music Museum of the Tiroler Landesmuseen in Innsbruck. One of which is this set of two CDs, the first of which is of early Baroque Christmas motets from Tyrol and Italy (recorded in 2016) with a second CD (recorded, live, in 2000) of Marienvespers music from Brixen Cathedral as might have been heard around 1641. The two CDs do not seem to be related, although it is not clear if this is a re-release of earlier published recordings.
The first CD includes motets by Christoph Sätzl (1592-1655) from Johannes Donfrid's 1627 Promptuarium musicum: Pars tertia, the Odae sacrae (Innsbruck 1638), and Cantiones Genethliacae (Innsbruck 1644). Other composers included from the Promptuarium musicum: Pars tertia are Jacopo Finetti, Orfeo Vecchi and Felice Aneerio. Two instrumental pieces are taken from Bernardo Storace's Selva di Varie Composizioni d'intavolatura per Cimbalo et Organo, published in Venice in 1664. The musicians are the Italian male vocal ensemble Odhecaton, accompanied by harp and harpsichord/organ.
The singing style may not be to your taste, the two countertenor voices being rather dominent and the acoustic spacing of the singers make some of them sound rather distant. With most of the vocal pieces lasting around 3 minutes, the addition of two instrumental pieces lasting over 11 minutes each was a curious programming choice. The first, Storace's Pastorale uses an inventive combination of harp, organ and harpsichord. The Passacaglia (actually a combination of four pieces in D, A, E and B minor) switches between harpsichord and organ in a not entirely convinceing manner.
The second CD is taken from a 2016 live concert in Brixen Cathedral by the Italian vocal group La Venexiana and the instrumental ensemble Prishna. It includes music by Johann Stadlmayer (aka Stadlmayr, 1575-1648) and Christoph Sätzl (heard on the first CD). Johann Stadlmayr was Hofkapellmeister first in Salzburg and then in the court of Maximilian III and Leopold V, Archdukes of Austria, in Innsbruck. Christoph Sätzl was Kapellmeister at Brixen Cathedral (seat of Prince-Bishops) from 1621 to 1632, when he moved to the aristocratic Royal Convent in Hall in Tyrol, just east of Innsbruck, where he stayed until his death.
The Stadlmayr motets are taken from Psalmi integri (Innsbruck 1641) while the Marian motets of Sätzl are from the Ecclesiastici concentus (Innsbruck 1621). Instrumental music is from Castello's 1644 Sonate concertate in stil moderno, Libro secondo (Venice 1644). As far as performance quality goes, the second CD is the best, the expanded instrumental accompaniments giving far more colour to the music. Both CDs reveal the influence of Italian composers on Austria, South Germany and the Tyrol during the early to mid 17th century, notable that of Viadana's pioneering 1602 Cento concerti ecclesiastici, an early example of the use of the Baroque basso continuo. The composers are little known, perhaps appropriately so, but are worth getting to know.