Arcardian Wilderness
Ensemble Augelletti
Brighton Early Music Festival
24 October 2020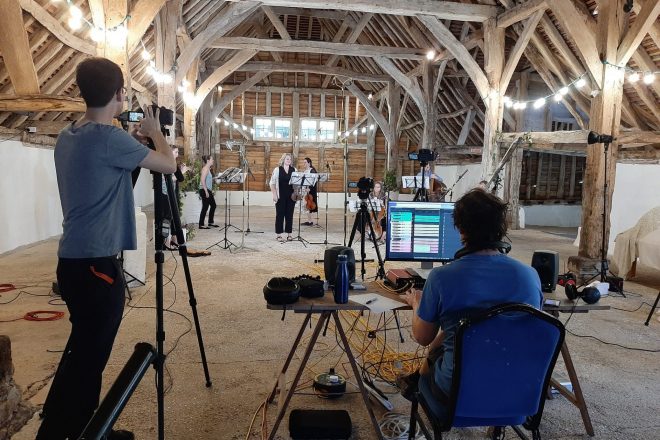 One of the many festivals going online is the Brighton Early Music Festival with ten events broadcast on YouTube and Facebook between 23 October to 1 November 2020. They are then available for seven days afterwards. It is possible to view for free within that period, but viewers are encouraged to buy online tickets and donate. One particular concert that caught my eye, and ear, was from the young group Ensemble Augelletti. The Facebook link to the concert is here.
As their founder and director, Olwen Foulkes, explains in her introduction, the programme is based on music from the Academy of Arcadia in Rome (Accademia degli Arcadi) and reflects both the music of composers connected with the Acadamy but also the concept of Arcadia as an "unspooilt ancient, mythical wilderness where the inhabitants lived in peace and harmony with their natural surroundings".
The concert was filmed in the suitable Arcadian setting of the 15th-century Tithe barn at Sullington Manor Farm and includes evocative landscape shots. It is a well made film and an attractive setting for a concert. The twittering of birds (if not some occasional traffic noise) adds to the Arcadian feel of the concert. A link to programme and a list of pieces performed can be found here, The compoers include Handel, Corelli (arr Geminiani), Scarlatti, Geminiani, Stradella and Sammartini.
As well as Olwen Foulkes playing recorders, the other members of Ensemble Augelletti are Ellen Bundy & Alice Earll, violins, Jam Orrell, viola, Carina Drury, cello, Harry Buckoke, bass/gamba, Toby Carr, theorbo, and Benedict Williams, harpsichord/organ. They play with an impressive sense of consort and musical integrity.