Stay, ye angels. J S Bach Cantatas
Gaechinger Cantorey, Hans-Christoph Rademann
David Franke (1746 Hildebrandt organ, Naumburg)
Accentus Music ACC30466. 73'47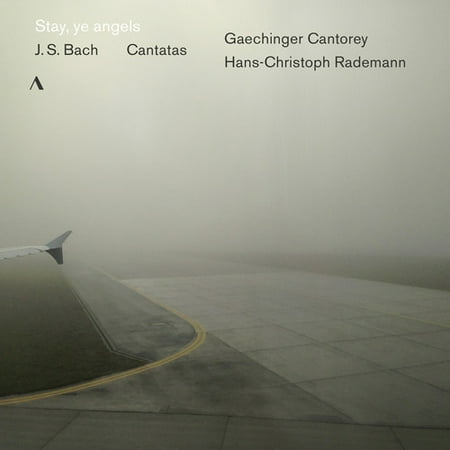 The crowning glory of this recording is the use of one of the finest Baroque (and Bach) organs in the world – the 1746 Zacharias Hildebrandt organ in the Stadtkirche Sankt Wenzel in Naumburg, Saxony- Anhalt, Germany. It was Hildebrandt's finest and most substantial organ and involved advice from Bach himself. They had met in 1723 when Bach opened Hildebrandt's first organ in the delightful little village church of Störmthal, just south of Leipzig. Bach and the organ builder Gottfried Silbermann (who had earlier fallen out with Hildebrandt) carried out the final examination of the instrument. It was restored back to its 1746 state in the year 2000.
Two dramatic and powerful cantatas for Michaelmas dating from 1726 to 1729 form the outer framework, both telling the story of Archangel Michael's victory over Satan. The opening cantata Es erhub sich ein Streit (BWV19) starts in a rumbustuous style with a flurry of voices and instruments. The tenor aria Bleibt, ihr Engel (Stay, ye angels), gives this recording it's name. The concluding chorale is embellished with inter-line organ interpolations from David Franke
In between these Michaelmas works are two cantatas that plea for peace. In the introductory Sinfonia and the two alto arias of Gott soll allein mein Herze haben (BWV169), the organ appears as a virtuoso solo instrument. The short and reflective bass cantata Friede sei mit Dir (BWV158) has some of the best solo singing of the CD, with baritone Peter Harvey catching the mood perfectly. The trumpets and drums return for the concluding Michaelmas cantata Man singet mit Freuden vom Sieg, (BWV149)
Gaechinger Cantorey (previously known as Gächinger Kantorei) is a German regional choir that has recently moved into a more historically informed style of early music performance, notably in their use of period instruments. That said, some of the continuo bass lines can sound rather plodding and inflexible – a notable exception between the eloquently expressive bassoon playing of Dóra Király in the aria Seid wachsam (BWV149vi). Vocally, they also have a little way to go, as some aspects of this recording illustrate. Singing with four voices to a part, the choral texture is rather thicker than most early music choirs and not all the soloists manage to rein in their vibrato sufficiently, or retain accurate intonation. 
The accompanying photos suggest that this was a live recording, although there is no evidence of that in the sound. The booklet does not include the texts, but has descriptions in German, English and French. For some reason, the CD cover has a photograph taken from a plane taxiing off a misty runway. I offer an alternative image of the Naumburg organ.