Giovanni Felice Sances: Dialoghi Amorosi
Scherzi Musicali, Nicolas Achten
Ricercar RIC385. 74'53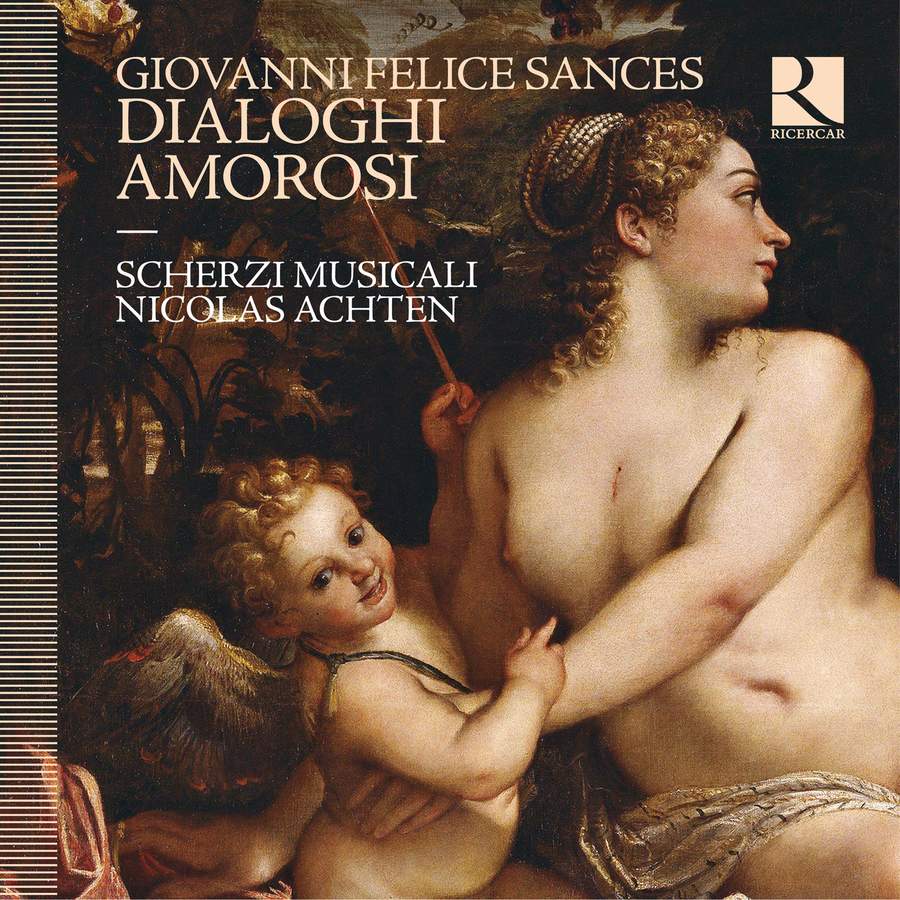 Giovanni Felice Sances (c1600-1679) was born in Rome to a family of singers. He studied at the Collegio Germanico and took part in the opera Amor pudico in 1614. He then moved to Bologna, Venice and finally Vienna, where he eventually became Kapellmeister at the Imperial court chapel. He published his four collections of Arcadian cantade (or cantatas – one of the earliest uses of the word, although not in the recitative-aria form of later pieces with this name) in Venice around 1640, although only two volumes have survived.
Most of these cantade were for one or two voices and continuo, but he also published four dialoghi amorosi (love dialogues) for two or three voices. These feature the likes of Ruggiero & Angelica (who manages to keep her virginity by making herself invisible), Lillo & Fileno and Phyllis & Thyrsis whose "naughty antics" include wanting to "die together" – if you know what they mean.
The frontispiece of the score mentions the theorbo, harpsichord, harp, or 'any similar instrument'. To these, Scherzi Musicali has added, variously, chitarrones and archlute, a lirone, bass viols an organo di legno, and a gut-strung spinet. Their use of this range of instruments is well-judged, the texture reflecting the nature of the texts. The instrumental tracks include a particularly effective version of Rossi's Sonata sopra l'Aria di Ruggiero using triple harp, archlute, chitterone, bass viols and spinet.
The programme notes (here) of this 2017 release give details of the accompaniments for each track, as well as identifying the singer – useful, as there are two sopranos. I find the clarity and intonational stability of Hanna Al-Bender's voice preferable to the vibrato of her companion soprano. The tenor is Renoud Van Mechelen and the baritone Nicolas Achten, director of the group.
It was recorded in the Begijnhofkerk in Sint-Truiden, Belgium, the acoustic giving an attractive bloom while retaining the focus on what is essentially chamber music. Recording videos are below.