Guillaume Dufay
Lament for Constantinople & other songs
The Orlando Consort
Hyperion CDA68236. 70'48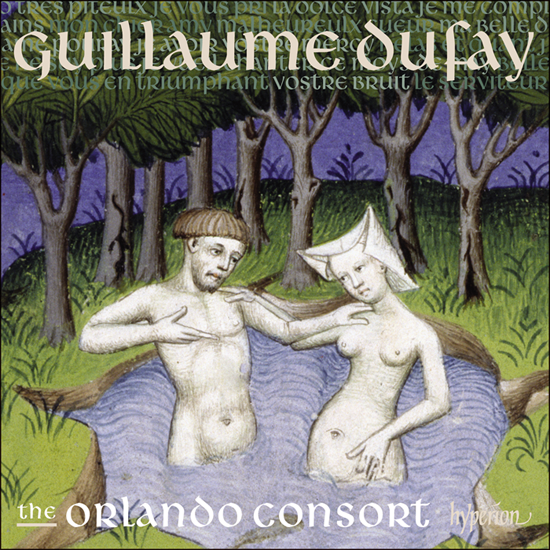 Music, and indeed most art forms, that comes on the cusp of a change in style can be amongst the most fascinating as composers, artists, and architects search out new approaches to their art. The music of Guillaume Dufay represents one such boundary, in his case, that between the Medieval and Renaissance periods. Although substantially Medieval in style, with its complex rhythmic structures and the curious Medieval habit of combining several texts in the same piece, often in different languages, there are clear elements of the forthcoming Renaissance style in Dufay's music. This impressive recording by The Orlando Consort demonstrates this aspect of his music well in a sequence of 18 tracks, 12 in Rondeau form, 3 Ballades, 2 multi-texted Motets and a single Virelai.
Most of the pieces are short – only two exceed 6 minutes in length and the opening title piece is the second shortest at only 1'23.  That is the motet O trés piteux/Omnes amici, the only surviving example of four Lamentations that Dufay composed shortly after Constantinople fell to the Ottoman Turks in 1453. It's curious (indeed, unique) form suggests that it is incomplete. The distinctive and pure discantus voice of Matthew Venner floats a melancholic French song above Latin texts from the Book of Lamentations.
The singing is up to the usual exceptionally high standard of The Orlando Consort, although in a few pieces, I detected a slight departure from their usually pure and straight voices in the lower parts. David Fallows provides excellent programme notes, one commendable aspect of which is that they follow the order of the pieces. I never understand why more recordings don't follow such an obvious practice.
If you are not familiar with music of this period or style, I recommend just playing this recording over in the background a few times, before beginning to follow the words or the descriptions of the pieces, some of which take nearly as long to read as the piece itself.