Tiranno
Kate Lindsey, Arcangelo, Jonathan Cohen
Alpha Classics. Alpha 736. 75'34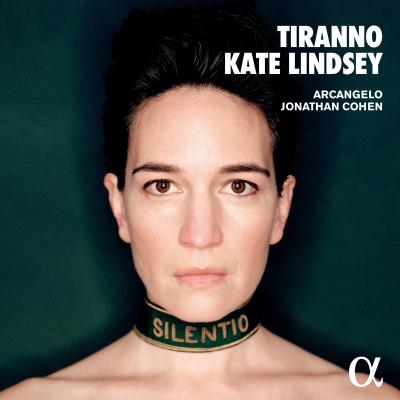 Extracts from five operatic scenes from the early to mid Baroque form a showcase for American mezzo Kate Lindsey. With compositions by Alessandro Scarlatti, Handel, Monteverdi, and Bartolomeo Monari, the pieces are based on the everyday story of Roman folk: Nero, Agrippina, and Poppea. Tirany is just the start of it!
Scarlatti's opening sees Nero at his most unpleasant, threatening destruction on all while he plays his lyre. The promotional aspect of the recording is apparent from the very first aria, as the orchestral accompaniment sounds as though it is in another room, while Kate Lindsey seems to be sitting on your lap. The start is odd, with the off-key opening to a recitative that sounding as though you have missed the first few notes. There should have been a short orchestral introduction to make more sense. The final aria is a gently mocking evocation of Nero's distain for his victims.
A rather unsettling segue leads us straight into Handel's similarly dramatic monologue on Agrippina, Nero's mother, whose mood changes from tenderness to vengeance. This very early work is a fine example of Handel's emerging skill at dramatic writing, notably in the four central Cavatinas. It also gives the singer a chance to demonstrate her vocal range, with several passages low in her mezzo register and with a completely different timbre.
The Monteverdi extracts start with the erotic scene between Nero and Luciano celebrating the death of Seneca, with its melodic foretaste of the concluding Pur ti Miro. Tenor Andrew Staples and soprano Nardus Williams join for these extracts. For those who come away from Monteverd's Poppea thinking what a sweet love song Pur ti Miro is, the final two pieces complete the sorry story, with Poppea and Nero's death, the former, of course occuring shortly after that scene as Poppea and her unborn child are murdered by Nero.
Kate Lindsey's persistent and almost completely uncontrolled vibrato is a major distraction, something I also pointed out in my review of her earlier CD with Arcangelo, Arianna. The few moments when it is reigned in reveal an attractive vocal timbre and excellent intonation, but otherwise it creates a massive mismatch in style between the singer and the strong period performance credentials of Arcangelo, whose clear playing is impressive.