Music for the King of Scots
Inside the Pleasure Palace of James IV
The Binchois Consort, Andrew Kirkman
Hyperion CDA68333. 55'17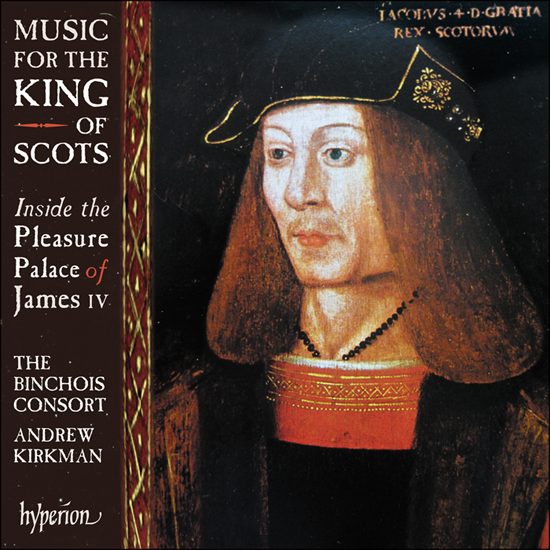 Anonymous (Carver Choirbook):
Missa Horrendo subdenda rotarum machinamento; Magnificat
William Cornysh: Ave Maria, mater Dei
There is more to this recording than meets the eye – or, indeed, the ear. At one level it is an impressively performed sequence of music from the Carver Choirbook, one of just two surviving large-scale collections of music from pre-Reformation Scotland. But it is also part of two interesting research projects: 'Space, place, sound, and memory: Immersive experiences of the past' and 'Hearing historic Scotland'. These have combined to bring back to life the lost performance space of the now ruined Chapel Royal of Linlithgow Palace as it existed at the turn of the sixteenth century.
Linlithgow Palace was a pleasure palace of the kings and queens of Scotland. It was the birthplace of James V and Mary, Queen of Scots. It is now a ruined shell, with no roof or windows. It is west of Edinburgh and was a refuge for the royal family between the capital and their main royal residence in Stirling. Through a virtual reality reconstruction of the interior of the Linlithgow Chapel, the combined projects have reconstructed the acoustic of the historic space. The Binchois Consort under Andrew Kirkman provides appropriate music within this virtual reality performance context, giving a fascinating perspective on how such repertoire might originally have been heard.
This important recording includes the little-known Missa Horrenda subdenda rotarum machinamento (also known as Missa Deus creator omnium, and given the nickname of the 'Catherine Wheel Mass' by the group). The chant underlying the mass setting has been identified as linked to St Katherine of Alexandria, a saint held in veneration by James IV. The music reflects a St Katherine's Day devotion in the chapel.
The elaborate wanderings of the opening chanted Matins responsory recall the "terrible machinery of wheels". It is followed by the Sarum introit for Katherine before the mass itself and a concluding Vespers Magnificat and William Cornysh's Ave Maria, mater Dei. The anonymous Missa Horrenda subdenda rotarum machinamento is set firmly within a musically Medieval context, with little of the complexities of later Renaissance polyphony. Parts of it sound rather austere, but these are balanced by beautifully sensitive passages and moments of polyphonic power. It would have become far better known if it was attached to a composer's name.
The recording was done in the challenging conditions of an anechoic chamber before the virtual reality acoustic was added. Despite the recording conditions, the singing is of the highest quality, with admirable clarity and freshness of tone. The nature of the relatively intimate applied acoustic is such that the detail is retained in a way that a conventional recording venue or concert hall could never achieve.  
More information on the background to the recording can be found here. One delightful touch was the very distant sound of seagulls, reflecting the position of the castle next to a loch.