Divina
Spiritual and secular baroque rarities by Schmelzer and Biber
Les Passions de l'Ame, Meret Lüthi
Deutsche Harmonia Mundi 19439763522. 62'05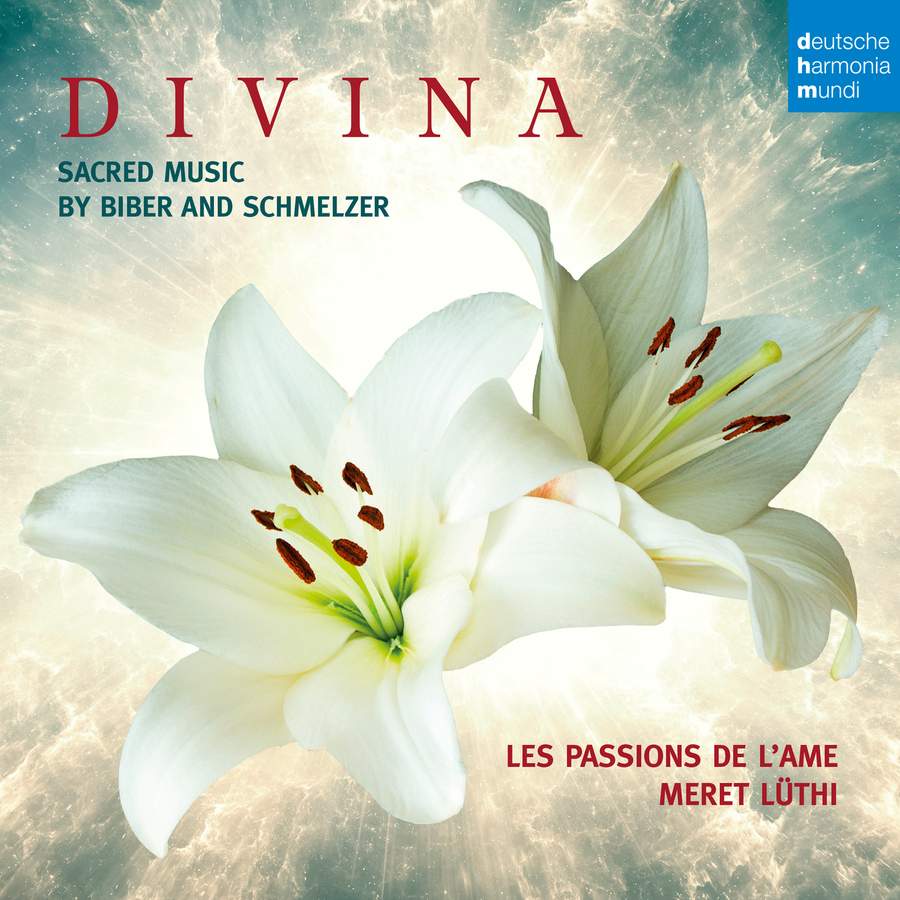 Heinrich Ignaz Franz Biber (1644–1704)
Psalm 127: Nisi Dominus aedificaverit domum;
Psalm 22: Laetatus sum;
Rosary Sonata No. 16 Guardian Angel;
Partitas No. 2 & 7 from Harmonia artificiosa-ariosa
Johann Heinrich Schmelzer (c. 1623–80)
Sonatas No. 7 & 8 from Sacro-profanus concentus musicus
Following previous recordings in their Biber-Schmelzer-Fux series (Spicy, Schabernack and Variety), this new CD from the Bern-based early music group Les Passions de l'Ame focusses again on the music of Heinrich Ignaz Franz Biber (1644–1704) and Johann Heinrich Schmelzer (c1623–1680), completing their recording of all the Biber trio sonatas from his Harmonia Artificiosa-Ariosa. As well as the instrumental pieces they also include two Biber vocal works.
The title of Divina reflects the principle behind the album, that music "has the power to bring together the earthly and the divine". Both Biber and Schmelzer held posts at important secular and spiritual courts and were both ennobled for their services to music by the Emperor Leopold I. After working in the Bishop's chapel in Olmütz and Kremsier, Biber entered the service of the archbishop of Salzburg and was appointed Kapellmeister of Salzburg Cathedral. Schmelzer worked in the Vienna Court Chapel where he eventually became Court Kapellmeister.
The 12 sonatas in Schmelzer's Sacro-Profanus Concentus Musicus (published
in Nuremberg in 1662) were written for performance in both in church and court. They are among the earliest examples of Austrian violin music. Biber's 1683 Fidicinium Sacro-Profanum takes Schmelzer's as its starting point but very quickly develops an advanced violinistic technique and virtuosity.
Les Passions de l'Ame plays with a delightful sense of inventiveness in a manner that not only grabs your attention but, as they never push things too far, also repays repeated listening. The little plucked section at the end of the Aria of the C minor Partita (track 14) is a lovely example. The following Arietta variata is the most extended of the two Harmonia artificiosa-ariosa suites. The C minor Partita is scored for the distinctive sound of two violas d'amore with a scordatura tuning of c, g, c', e-flat', g', c". The opening Partia II is for two violins tuned as b, f-sharp', b', d".
The two Biber vocal works are a fine contrast to the instrumental pieces, with excellent singing from the two bass singers Jonathan Sells and Lisandro Abadie.