Apparatus musico-organisticus
Baroque organ works from Tyrolean sources
Peter Waldner
Musikmuseum 51 MMCD 13050. 65'29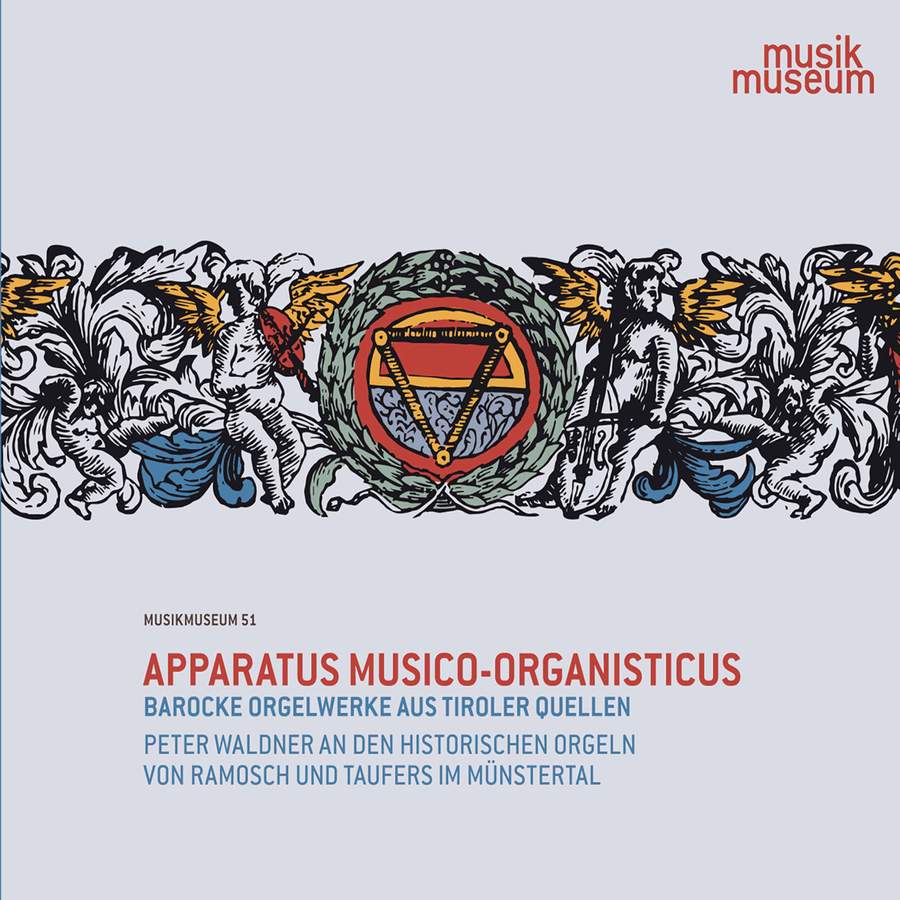 In this recording, the prolific Innsbruck-based organist Peter Waldner plays two historic organs in the western part of the Italian South Tirol close to, and just over, the border with Switzerland. The choice of organs, and to an extent the music, is focussed on that region, not least because the nearby Benedictine Abbey of Marienberg contains the Tyrol's only known copy of Georg Muffat's 1690/1721 Apparatus musico-organisticus which forms the bulk of the CD.
Muffat's Apparatus musico-organisticus is one of the most important collections of organ music from the 17th century. Muffat used his cosmopolitan background and musical influences to create a monumental compendium of 12 Toccatas in the stylus phantasicus tradition, a Ciaccona, Passacaglia and a set of variations, Nova Cyclpeias Harmonica. The music combines French, Italian and German styles, notably in the use of French-style ornamentation. Muffat gave detailed instructions on performance issues making the Apparatus a key part of any organists training.
The two organs are the 1709 instrument by Johann Caspar Humpel in St. Blasius, Taufers im Münstertal (close to the Swiss border) and the c1680 organ by Carlo Prati in St. Florinus in Ramosch, over the border in Switzerland. Both organs have been restored to something approaching their original state. They are of slightly different pitch, but you would have a very good ear to notice. That said, it was a slightly curious decision to alternate organs track by track rather than divide the CD programme into two halves on the two organs. But the sound and acoustic background is not dissimilar.
Alongside five of the first eight Muffat Toccata (each based on one of the eight church modes) are pieces by the Krieger brothers, Johann Philipp & Johann, an unknown priest-composer with the splended moniker of Ingenuin Molitor and the even more unknown anonymous composer of a spiky little c1700 Ricercare found in the abbey of Stams.
Peter Waldner's playing is eloquent and well articulated, with a good sense of structure in the often anarchic Muffat Toccatas. I was not entirely convinced about the use of the rather booming 16′ pedal stop in some of the Toccatas, but that is a registration element that is open to discussion with Muffat. I liked the way Waldner treated the curious arpeggios of the penultimate variation of the rather lumpy Johann Philipp Kreiger Passacaglia. A rather specialist, but nonetheless satisfying recording, particularly for the Muffat Toccatas.