From the GROUND up
David Hill, Peterborough Cathedral organ
Regent REGCD539. 67'48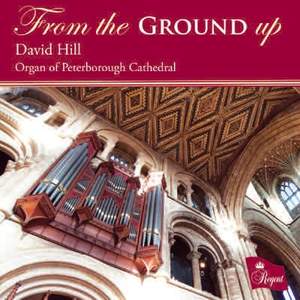 There is more to this recording than a 'mere' display of 20th-century British organ music, most based on a ground bass, usually in its particular incarnation as a Passacaglia, played on a grand English cathedral organ by one of England's most distinguished organists. But that alone is enough to recommend the recording. It encompasses a wide range of music styles, generally influenced by German organ composers, dating from 1910 to the present day, together with a lovely little contrasting contribution from Orlando Gibbons, from the early 17th-century. Two major gems of the repertoire and a substantial new piece are balanced by a sequence of short pieces.
The Passacaglia had its origins in early Baroque Spain and Italy, but quickly developed into an extended sequence of variations on a repeating ostinato bass. It has inspired composers from Frescobaldi, Bach and Brahms to Britten and Shostakovich. The almost hypnotic build up of tension is one of the most distinctive aspects of the Passacaglia, particularly as organ composers and performers, as here, rarely miss the chance to add stop after stop to build to a dramatic climax.
The repertoire for the programme is well-chosen, balancing substantial warhorses from Alcock (Introduction and Passacaglia: 12'11) and Willan (Introduction, Passacaglia and Fugue: 17'32) with little-known pieces by lesser known composers Herbert Murrill, John E West and Harvey Grace. Richard Blackford's Prelude and Passacaglia ( 9'49), commissioned by David Hill for performance on the Peterborough organ, is a worthy addition to the repertoire. Both movements are based on the interval of a fourth, the deteched notes of the Passacaglia theme soon coalescing as the 10 variations evolve.
David Hill MBE is one of many conductors who cut their musical teeth as an organist with posts as Director of Music at Westminster and Winchester Cathedrals and St John's College Cambridge followed by appointments as Director of The Bach Choir, Leeds Philharmonic Society, and The BBC Singers. He clearly hasn't lost his organ playing and interpretation skills after his moves to more elevation positions in musical life.
The added element to the CD is that it is the first commercial solo organ recording of the 1894 Willam Hill organ of Peterborough Cathedral since it was changed to concert pitch from its original Old Philharmonic pitch of A451, nearly half a semitone higher than the present day concert pitch of A440. This entailed extending the length of every one of the 5,286 pipes at a cost of around half a million pounds. Perhaps inevitably, given the nature (and the powers of persuasion) of ambitious organists, a new Tuba Mirabilis was also added by the organ builders, Harrison & Harrison. The retuning was intended to enable the organ to be used with modern orchestras as well as apparently making life easier for the choir who would, other than when singing in the cathedral, be used to singing at modern pitch. Unless of course they had a particular interest in the earlier choral repertoire, in which case they could probably have taken a pitch change in their stride.
More information about the organ and its retuning can be found here, and here and a series of videos of the process can be seen here. More information on the recording can be found here.