Goldberg Variations & Topelius Variations
Arctic Philharmonic Chamber Orchestra, Henning Kraggerud
Simax PSC1353. 74'20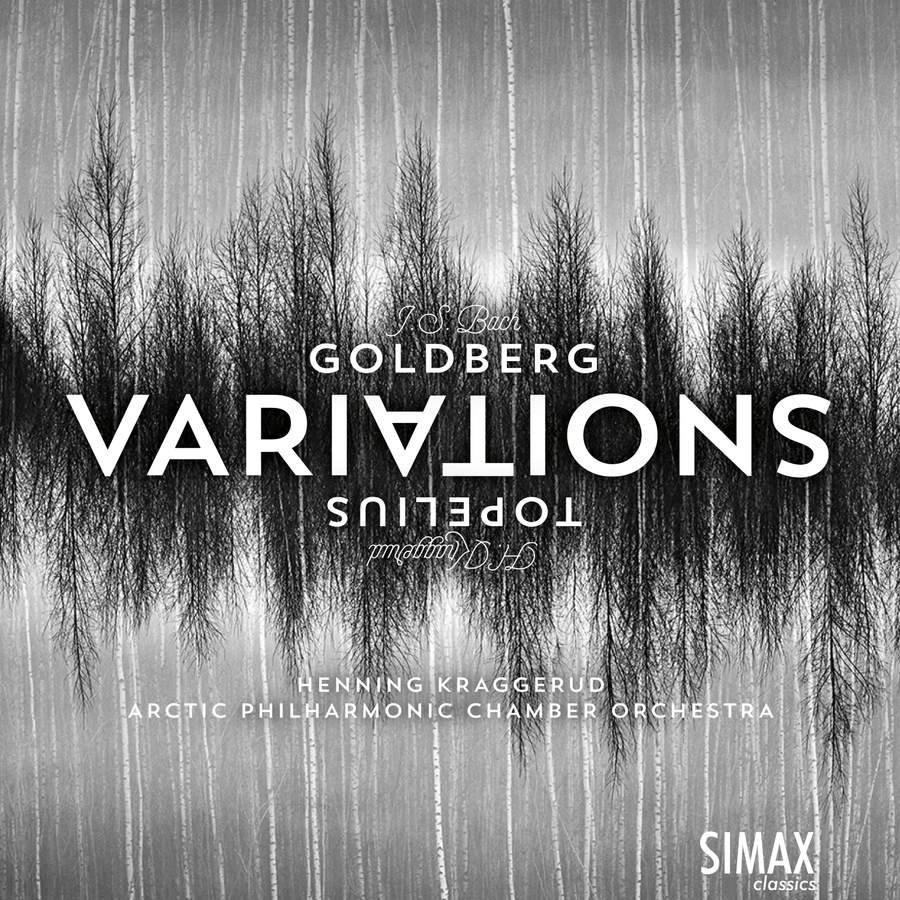 Bach: Goldberg Variations (arr. Kraggerud & Lund)
Henning Kraggerud: Topelius Variations
This is a combination of an arrangement for string orchestra of Bach's Goldberg Variations with a set of variations composed in 2017 by Henning Kraggerud, the leader of the Arctic Philharmonic Chamber Orchestra. It was inspired by the life of the Swedish-speaking Finn, Zachris Topelius (1818-1898), a historian and a writer of essays, poems, fairytales and children's stories, who helped to develop a Finnish identity as it moved towards eventual independence.
Kraggerud suggests that his and Bernt Simen Lund's Goldberg arrangement includes 'all the notes and pitches of Bach', together with Bach's own corrections and additions from the first edition, ignoring later editorial additions of later arrangements. After the delightful delicacy of the opening theme played, by the sound of it, by a string quartet with an occasional 16′ bass, Variatio 1 comes as a bit of shock as the combined strings rally forth at full volume. This is an issue throughout – the sharp contrast in mood and volume between the variations. With a 22-strong string orchestra, I suppose you do need to use them all, but the wide shifts do not always make this relaxing listening.
Some of the more powerful variations (for example, Variatios 10, 12 and 14) can sound rather plodding, perhaps because of the loss of sensitivity of having 22 players rather than four, as is the case in the more delicate variations. The addition of occasional 16′ sound from the double basses, and the added plinkety plonks of the pizzicato bass (in, for example, Variatios 13 and 19) adds breadth to the music missing in keyboard performance.
Presumably because of recording space on the CD, not all the repeats are played. Several variations run into each other, but there is a break before Variatio 10. There are inevitable changes in timbre as the instrumental compass means a change of instruments mid-flow, as in Variatio  20. Apart from the opening theme, one of the loveliest moments is the extended Adagio of Variatio 25. The style veers more towards the Romantic than the Baroque in many aspects, the massed strings adding a layer of lushness not normally associated with period-instrument performances of Bach. 
The 15-minute Topelius Variations are similarly Romantic in mood, despite its composition just three years ago. The opening shimmering strings give way to a violin solo announcing the first of the two themes. Kraggerud compares his 15-minute score to Grieg's homage to the writer Ludvig Holberg, in this case using the approach of recalling the sort of musical language that proliferated during Topelius's life, but seen through the filter of the intervening years, albeit not the most recent compositional style. The playing of the Arctic Philharmonic Chamber Orchestra is impressive in both works.