Les Caractères d'Ulusse
Rebel & Boismortier: Suites pour deux clavecins
Clément Geoffroy, Loris Barrucand, harpsichords
Château de Versailles Spectacles CVS021. 74'03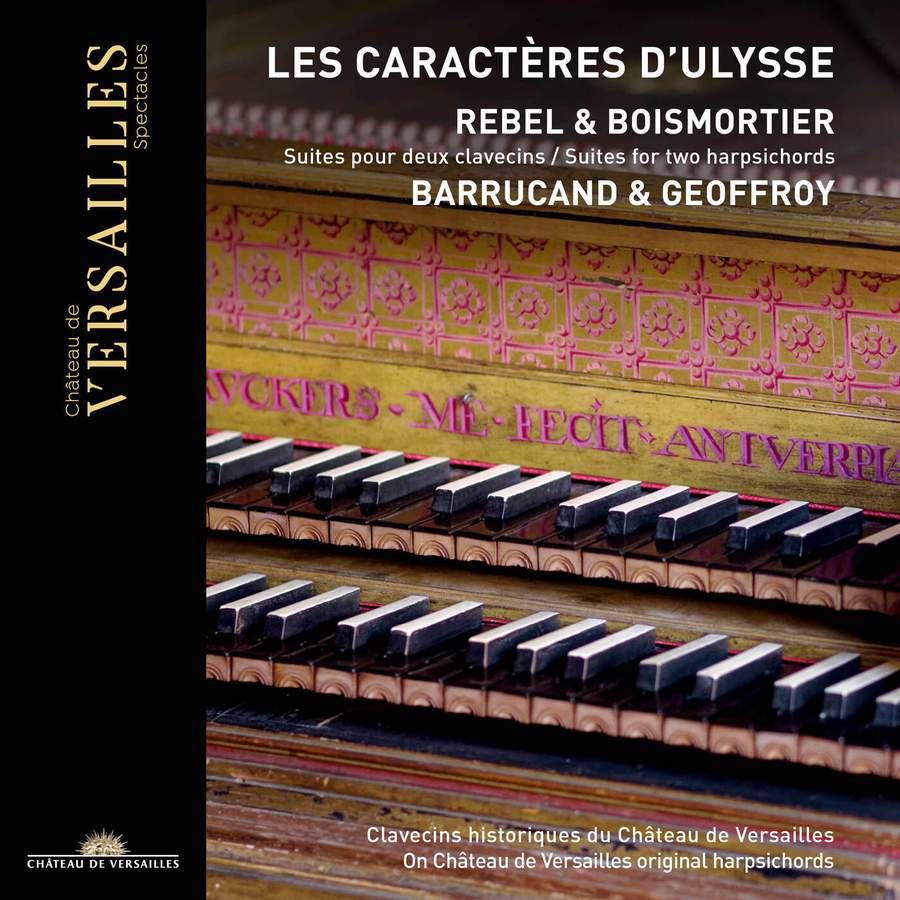 Rebel, J-F: Suite d'Ulysse; Les Caractères de la Danse; Les Élémens;
Les Plaisirs Champêtres 
Boismortier: Premier ballet de Village; Suite de Daphnis et Chloé
Using two of the historic instruments from the collection at the Château de Versailles, one by Ruckers the other by Blanchet , harpsichordists Loris Barrucand and Clément Geoffroy present arrangements of music by Jean-Féry Rebel, (1661-1747) and Joseph Bodin de Boismortier (1691-1755). The impetus for this venture came from a commission in 2016, the 350th anniversary of Rebel's birth, for a piece for two harpsichords and dancers combined with Rebel's own comment that he wanted his 1715 orchestral piece Les Caractères de la Danse (an uninterrupted succession of fourteen dances completed in around eight minutes) to be played "like a piece on the harpsichord".
The two harpsichords are located in the Apartments of Madame Victoire in Versailles. The Ruckers' was built in Antwerp in 1628 with the extended ravalement compass added in Paris in 1706 by Blanchet. The 1746 Blanchet instrument is typical of a Parisian harpsichord of the time of Louis XV. Although bearing the signature of Blanchet, there is the signature of another maker (Johann Pixius) hidden under the soundboard – an interesting feature which is not explained in the programme notes.
Although dating from very different periods and styles, the two instruments blend reasonably well in this recording.  They were presumably recorded in their present location. The acoustic allows individual lines to be heard. The players certainly make the most of the sonic possibilities of the two harpsichords with some massive sounds, notably in the opening Chaos chords of Les Élémens.
This is probably intended to appeal to harpsichord players rather than those who are used to hearing the wonderful array of orchestral colours in the original format. If you are tempting with this recording, do also try to hear the music performed on original the orchestral instruments.