Salve, Salve, Salve
Josquin's Spanish Legacy
Contrapunctus, Owen Rees
Signum SIGCD608. 71'02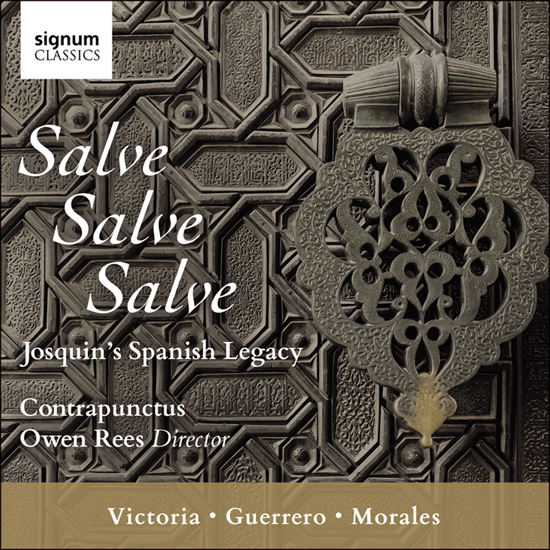 Cristóbal de Morales: Jubilate Deo omnis terra
Tomás Luis de Victoria: Missa Gaudeamus, Salve regina
Francisco Guerrero:Ave virgo sanctissima, Surge propera, amica mea
Josquin Desprez: Salve regina
Some of the most interesting recordings and performances of early music in the UK over the past decades has come from (generally Oxbridge) scholars whose academic research interests led them into (or kept them in) academia, many achieving high academic office. One such is Owen Rees, like many such, a former Oxbridge organ scholar. He is now Professor of Music at Oxford University and Fellow and Director of Music at The Queen's College. His research interests are Iberian and English vocal music of the Renaissance, and his professional vocal group Contrapunctus allows this research to be presented to a wider musical audience. Their latest recording explores the influence of Josquin Desprez on Morales, Guerrero, and Victoria, the rather disparate composers united by their use of ostinato (the repetition of a motif throughout a piece), a technique inspired by Josquin.
The musical focus of the disc is Victoria's powerful six-voice Missa Gaudeamus, here performed complete. It is based on the motet Jubliate Deo omnis terra by Morales, the opening track on this CD. That was written for peace celebrations in 1538 in the presence of the Pope, and the Kings of France and Spain, the latter also being the Holy Roman Emperor. One of the six voices of Morales's Jubliate Deo omnis repeats the ostinato phrase Gaudeamus ('rejoice') from the plainchant Introit to a Feast Day mass: Gaudeamus omnes in Domino (the second track on this recording). The link with Josquin is that the same phrase is used in his own Missa gaudeamus.
Another fascinating comparison comes with versions of the Salve Regina in plainchant form and in versions by Josquin and Victoria, Victoria's version showing a clear influence of Josquin . The final piece, Guerroro's motet, Ave virgo sanctissima, uses the same Salve regina theme
The singing us exceptional, the clarity of the vocal lines carrying through the attractive acoustic of St Michael and All Angels, Oxford, a much larger and more resonant space than The Queen's College Chapel. Contrapunctus sing with considerable vigour and power, entirely appropriate to the celebratory nature of the music, without ever sounding forced. Owen Rees brings an impressive sensitivity to his direction that allows the music to speak with its own voice.