The Godfather
Masters of the German & Italian Baroque
La Serenissima, Adrian Chandler
Signum Classics SIGCD602. 66'09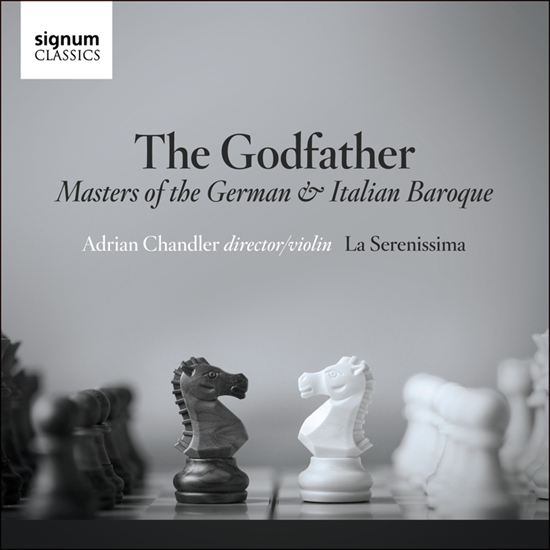 For long the undoubted champions of the music of Vivaldi, as their name suggests, La Serenissima are spreading their musical wings to explore the musical triumvirate of Telemann, Pisendel and JS Bach, all three closely connected, together with the composers Fasch, Vivaldi and Brescianello, who also had links with the principal trio. As La Serenissima note on their website, the links are that Pisendel was godfather to one of Telemann's children; Telemann was godfather to CPE Bach;. JS Bach admired both Pisendel and Telemann and composed for the violinist Pisendel; Vivaldi helped Pisendel with his A minor concerto movement; Fasch was a friend of Pisendel and Telemann, and Pisendel played concertos by Brescianello, an Italian who helped to spread disseminate Italian instrumental music throughout the German-speaking lands.
This recording includes complete concertos by Telemann, Brescianello, Vivaldi and Fasch, together with isolated concerto movements by Pisendel, Bach and Vivaldi. The three trumpeters (led by Simon Munday) appear in the Telemann, Bach and concluding Fasch concertos. The bassoon playing of Peter Whelan notably features in the Brescianello concerto. The oboe playing of Rachel Chaplin and Mark Baigent is also a feature, notably from one of them in the gorgeous Largo of the opening Telemann concerto. Not surprisingly, the violin playing of La Serenissima's director Adrian Chandler is to the fore in several movements.
Curiously, given their devotion to Vivaldi, the two pieces by him are not his finest, with too my formulaic all-purpose Baroque writing. There is more interest in the other lesser-known composers, notably Brescianello, although it is Telemann who stands out with his opening Concerto. Perhaps inevitably, given the limitations of the trumpets, the three concertos involving them, all in D major, are of limited harmonic interest, but make up for that by the spectacular sound. The playing is impressive throughout, and Adrian Chandler maintains sensibly speeds.
As well as listings all the players, their instruments and their provenance and historical models are also recorded- a nice touch. The programme notes (only in English) give a detailed background to the composers and the links between them. If you are sensitive to awkward key changes between pieces, there are a couple that you may not like, from A to E-flat and from B-flat to A.
Telemann
Concerto for 3 trumpets, timpani, 2 oboes, bassoon, strings in D. TWV54:D3
Pisendel
Concerto movement for violin strings in A minor
Concerto movement for 2 oboes, bassoon, strings in E flat
JS Bach
Concerto movement for violin, 3 trumpets, timpani, 2 oboes, bassoon, strings in D. BWV 1045
Brescianello
Concerto for violin, bassoon, strings in B flat
Vivaldi
Concerto movement for violin, strings in B flat. RV 745
Concerto for strings in A. RV 158
Fasch
Concerto for violin, 2 oboes, bassoon, 3 trumpets, timpani, strings in D. FaWV LD3