Routes du Cafe
Ensemble Masques, Oliver Fortin
Alpha Classics, Alpha 543. 71'39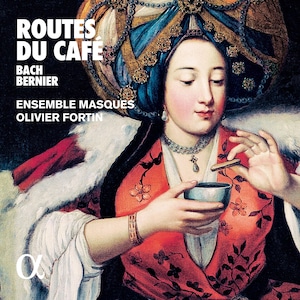 Coffee is an essential contribution to the lives of many travelling musicians. This fascinating CD from Ensemble Masques pays musical homage to coffee with two cantatas devoted to coffee, and instrumental music of Turkish origin or influence reflecting it's origins in Constantinople. The programme is arranged in the form of an Ottoman fasil (suite), the two cantatas contrasted by Ottoman-style improvisations (taksim). We are taken on a tour through the cities of Europe where coffee-culture took hold – Paris, London, Constantinople and Leipzig – the latter, predictably, with Bach's 'Coffee' Cantata Schweigt stille, plaudert nicht, BWV 211.
After an introductory taksim we hear the cantata Le Caffé by Nicolas Bernier (1664 – 1734), a little-known (at least to me) French composer. He was the successor to Charpentier as maître de musique at Sainte-Chapelle and one of the music directors of the Chapelle Royale. His cantata is in the Italian-influenced style, and praises coffee as a 'Charming potion, that ravishes my soul'. It is beautifully sung by soprano Hana Blazikova, the clarity and focus of her voice one of the key features of this recording. It segues into taksim played on oud and ney flute and a piece by Nâyi Osman Dede (c1652-1729), a Sufi contemporary of Nicolas Bernier. The Parisian section of the programme finishes with the Saillie du café from the Troisième livre de viole by Marin Marais. 
The coffee connection then moves to London, where Samuel Pepys recorded a meeting with the organist/composer Matthew Locke in the Turk's Head coffee house, illustrated by. Locke's sublime Fantasia in D Minor. It is introduced by Taksim Kaman and Wahda Sarabande, two evocative Ottoman-inspired pieces by Ensemble Masques' violist Katheleen Kajiokla, clearly a strong influence on this recording.
A brief visit to late 19th-century Constantinople comes with Taksim & Mahur Peşrev by Tanburi Cemil Bey (1873-1916) played on the yayli tanbur (a long-necked bowed instrument) by Evgenios Voulgaris. This leads into Bach's mini-opera 'Coffee' Cantata sung by Hana Blazikova, soprano, Reinoud van Mechelen, tenor and Lisandro Abadie, bass. As in the Bernier cantata, the sensitive flute playing of Adrien Espinouze dominates.
This fascinating combination of musical styles makes for a very compelling listen. The performances are sensitive and delicate, showcasing the music rather than the musicians. The programme notes make for interesting reading on the history of coffee and its spread throughout Europe.