Henri-Jacques de Croes: La Sonate Égarée
BarrocoTout
Linn Records CKD 597. 62'19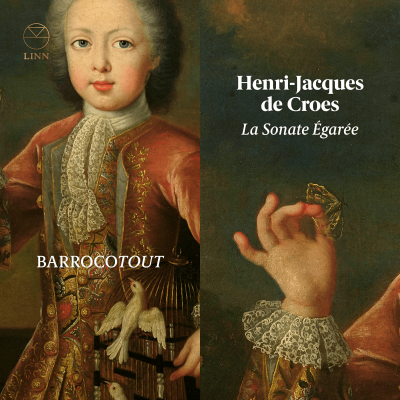 BarrocoTout (Carlota Garcia, flute, Izana Soria, violin, Edouard Catalan, cello, and Ganael Schneider, harpsichord) are named after a sketch in a Spanish comedy show: Barroco Tú (= Baroque yourself). They got together during their studies at the Royal Conservatoires, Brussels in 2013. They were selected for the EEEmerging (Emerging European Ensembles) project in 2015 and in 2016 won awards at the Utrecht Early Music Festival. This debut recording by Linn Records is one of their prizes for winning the 2017 York Early Music International Young Artists Competition. It is appropriate for them to choose a little known composer, in this case, the Antwerp born Henri-Jacques de Croes (1705-86).
Henri-Jacques de Croes worked as principal violinist in Antwerp's Sint-Jacobskerk before moving to Frankfurt for a post with the princely Thurn und Taxis family, who had been building up an enormous fortune through their role in running the postal service of the Hapsburg Holy Roman Emperors. Some years later, the T&T family moved to Regensburg, where they remain in considerable splendour. This posed a dilemma for de Croes which the detailed programme notes elaborate.
Drawing on French, Italian and German styles, de Croes's music combines courtly style with more enlightened and popular idioms. The six attractive and varied Op 5 Trio Sonatas here recorded are composed in a broadly Italian Rococo style. There is only one copy in existence, and they were regarded as 'lost' for many years. Unfortunately, I was not at the York competition that gained them this recording contract so cannot compare them with their fellow competitors. But, judging by their sparkling playing on this CD, they sound like worthy winners.