Mozart: Mitridate, Re di Ponto
The Royal Opera, Christophe Rousset
Royal Opera House, Covent Garden, 26 June 2017
By the time he composed Mitridate, Re di Ponto, Mozart has already written 13 symphonies, three operas, four masses, two oratorios, and around 20 sonatas for strings or keyboard. He was just 14. This revival of Graham Vick's 26 year-old production exposes the extraordinary artifice that was the realm of opera seria, overblowing and exaggerating every aspect of Mozart's youthful exploration of love and family feuding.
The opera opened with what looked like the aftermath of a nasty accident. It seemed as though Aspasis had crash landed through the top of a vast cloth-covered sideboard, leaving only the upper part of her body visible. It took a while to realise that it was not a sideboard, but her costume – one of a number of vast rectangular tent-like creations of huge width that some of the singers had to contend with for much of the evening. One of several, presumably unintended, audience laughs came when a closing set panels left just enough space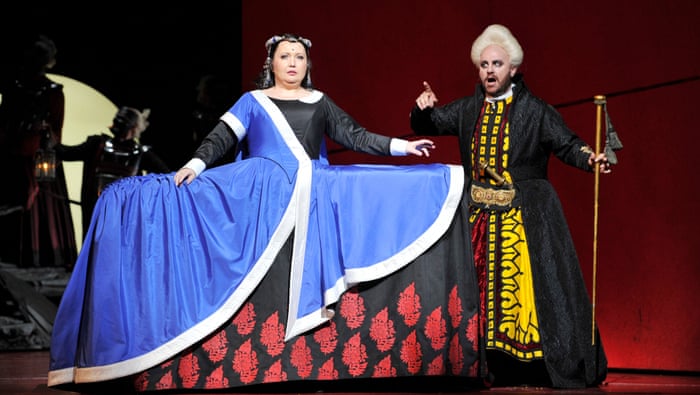 for Aspasia to walk through without turning sideways. She later appeared as though sitting behind a large bedecked dinner table, as pictured. Indeed the striking costume design was one of the main features of this production, which included a number of impressively choreograph set-piece dances, at one stage complete with a lot of foot-stomping, stick-banging and skirt-twirling, the whole more in Japanese than Anatolian (or 18th century European) style.
The main protagonists were helpfully colour-coded with the warring brothers Farnace and Sifare in red and green sideboards, Dad (Mitridate) in sumptuous gold, and Arbate in black. Lucy Crowe's Ismene looked as though she had been plucked from one of the Indian-inspired Apsara wall carvings of Angkor Wat, although she had more clothes on. She even managed to perfect the little sideways head nod that Indians, and practically nobody else, seem able to perform, added to some puppet on a string movements. Arbate and Iseme came with their own retinue of supporters, elaborately dressed, and given complex movements negotiate, while Mitridate had six mysteriously dressed attendants who seemed to like nothing better than rustling their skirts and making curious shifting movements in the background.
The staging was dramatic and brilliantly lit, often just leaving the vast Covent Garden stage empty but for one singer. Mozart's youthful display case for virtuoso singers (who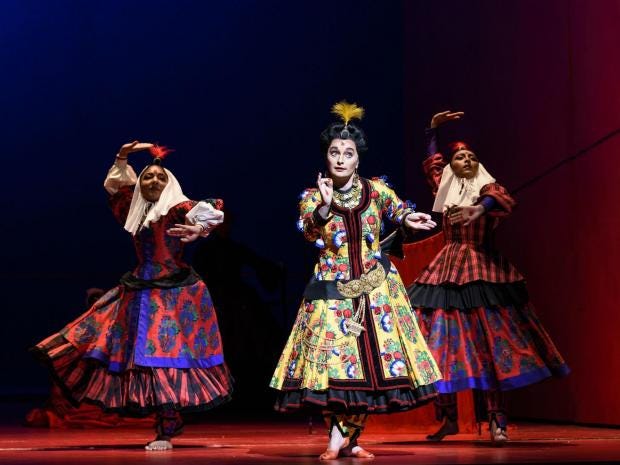 apparently all had their own quirks and requests that he was pushed to incorporate) meant that the opera featured a seemingly never-ending round of showy and virtuosic exit arias. The demands on the singers was enormous and, apart from some over exaggerated vibrato from several in the cast, most coped well. A few singers stood out, including Michael Spyres in the title role, Bejun Mehta as Farnarce, Robert Charlesworth as a late replacement as Marzio and Jennifer Davis, a member of the Young Artists Programme, as Arbate. But the outstanding singer was, yet again, Lucy Crowe, pictured, as Ismene, he voice hitting just the right balance between power and period style. She also demonstrated her consummate acting skills.
Making his Royal Opera House debut, the specialist period instrument performer and conductor Christophe Rousset kept the ROH orchestra on their toes, producing a cohesive, well paced and reasonably appropriate period sound from their modern instruments.
The glitz and glamour of the costumes and the sheer scale of the setting no doubt appealed to many of the traditional opera audience, but I couldn't help feeling that this overblown production was, perhaps understandably, an attempt to make up for the boy Mozart's compositional and constructional failings. It is not his finest work, although if it had been the only piece of his that survived to this day, we would no doubt think of it differently.
Pictures: ROH/Bill Cooper