Mozart: Mitridate, Re di Ponto
The Royal Opera, Christophe Rousset
Royal Opera House, Covent Garden, 26 June 2017
By the time he composed Mitridate, Re di Ponto, Mozart has already written 13 symphonies, three operas, four masses, two oratorios, and around 20 sonatas for strings or keyboard. He was just 14. This revival of Graham Vick's 26 year-old production exposes the extraordinary artifice that was the realm of opera seria, overblowing and exaggerating every aspect of Mozart's youthful exploration of love and family feuding.
The opera opened with what looked like the aftermath of a nasty accident. It seemed as though Aspasis had crash landed through the top of a vast cloth-covered sideboard, leaving only the upper part of her body visible. It took a while to realise that it was not a sideboard, but her costume – one of a number of vast rectangular tent-like creations of huge width that some of the singers had to contend with for much of the evening. One of several, presumably unintended, audience laughs came when a closing set panels left just enough space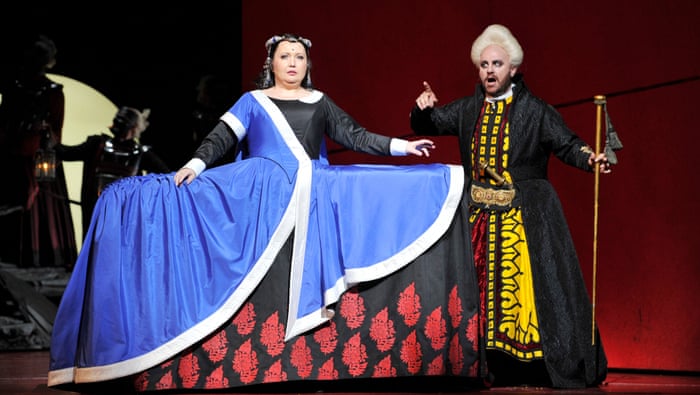 for Aspasia to walk through without turning sideways. She later appeared as though sitting behind a large bedecked dinner table, as pictured. Indeed the striking costume design was one of the main features of this production, which included a number of impressively choreograph set-piece dances, at one stage complete with a lot of foot-stomping, stick-banging and skirt-twirling, the whole more in Japanese than Anatolian (or 18th century European) style.
Continue reading →