Blanchard: Magnificat à la Chapelle Royale
Trois motets à grand chœur
Chœur de chambre Les Eléments, Orchestra Les Passions, Jean-Marc Andrieu
Ligia: Lidi 020231-16, 77'00
Antoine Blanchard: Magnificat (1741), De Profundis (1740), In exitu Israel (1749)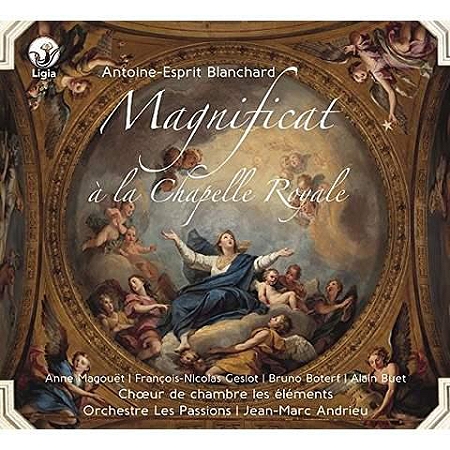 Antoine Blanchard (1696-1770) is a rather shadowy figure in French musical history. There is far more information in Bernadette Lespinard's detailed CD notes than can be found in other source that I could find on the internet in English. He is sometimes given the additional first names of Esprit-Joseph, although he never used them himself. He was a choirboy in the Saint-Sauveur Cathedral in Aix-en-Provence, and became a cleric from about 18. Transgression of the rules led to his departure from this role after only one year. He then moved to Marseilles as director of music at Saint-Victor, although he spent two years away in Toulon, detained there by the plague. Whilst building up his contacts in Paris, he worked in the choir school at Amiens Cathedral, eventually getting a Royal appointment in the Versailles Musique de la Chapelle in 1738.
The three large-scale motets à grand chœur recorded here (two are world première recordings) represent the music of the Court Chapel of Louis XV in the 1740s. Shorn of some of the daintiness and delicacy of the high baroque, they show the move towards elements of more classical composition. The use of vocal forces is rich and sonorous, owing much to the world of opera. Although varying in style, each of the motets contrasts solo Recits, Duos, Trios and choral passages. The Recits are particularly interesting, with their frequent use of word painting. All three of these particularly grand motets open with a substantial chorus, that for the final In exitu Israel including some extraordinary passages for very high piccolos as the Hebrews (apparently) tootled their way out of Egypt. This motet has the most dramatic examples of Blanchard's use of dramatic musical effects, including the chorus trembling with fear in Tremblement de terre. Blanchard uses a wide range of instruments, with notable passages for horn, clarinet, bassoon and flutes/piccolos.
This is a live recording from a concert recorded at the Festival de Radio France et Montpellier Occitanie Pyrénées-Méditerranée in July 2016, although there is no evidence of audience noise. The conductor, Jean-Marc Andrieu, has been studying Blanchard's music for some 30 years and this is clearly something of a labour of love. His direction is assured, relishing Blanchard's emotive response to the texts. The solo singing is particularly effective from the haute-contre François-Nicolas Geslot, tenor Bruno Boterf, and bass Alain Buet, but I felt that some of the soprano singing rather overdid the vibrato, causing some havoc with the distinctive French ornaments. Some of the chorus also have excessive vibrato from amongst the sopranos.
The Orchestra Les Passions (Orchestre Baroque de Montauban) make a very impressive sound, with some excellent soloists. It is likely that a full-sized church organ would have been used with the orchestra in the original performances, but the one used here seems to be a small chamber organ. Although it occasionally makes itself heard, it is nowhere near the distinctive colours and textures of the late Baroque French organ.
The CD is released on 21 October 2016.