Telemann: Suites and concertos for recorder
Erik Bosgraaf, Ensemble Cordevento
Brilliant Classics 95248. 75'46
Suite in E-flat, TWV 55:Es2; Suite in A minor, TWV 55:a2;
Concerto in F, TWV 51:F1; Concerto in C, TWV 51:C1.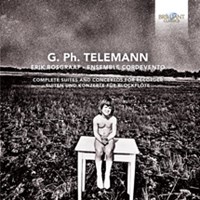 Telemann taught himself to play the recorder, violin and zither before the age of 10, and continued to practice the recorder well into his teens – something very few youngsters do today. He seems to have retained a love for the recorder, judging by the number of pieces he wrote for it, including these Suites and Concertos. Incidentally, the two Suites are both titled Ouverture in their manuscripts, and are examples of Telemann's so-called concert en ouverture style of composition, which combines elements of the traditional suite with the overture. Apart from the E-flat suite (which is intended for the flute pastorelle, which perhaps means the panpipes), all the music is from the same manuscript surviving in the Hesse Court library in Darmstadt, suggesting that they were composed for Michael Böhm, Telemann's brother-in-law and a virtuoso woodwind player. They are all written for alto recorder.
Both types of piece reflect Telemann's cross-cultural inspiration, taking bits of French and Italian style with a dollop of the inevitable Polish influence. Continue reading →