Carlo Tessarini
6 Violin Sonatas Op.14 & 6 Trio Sonatas Op.9
Valerio Losito & Paolo Perrone, violins
Federico Del Sordo, harpsichord
Brilliant Classics, 95861. 2CDs 48'52+57'45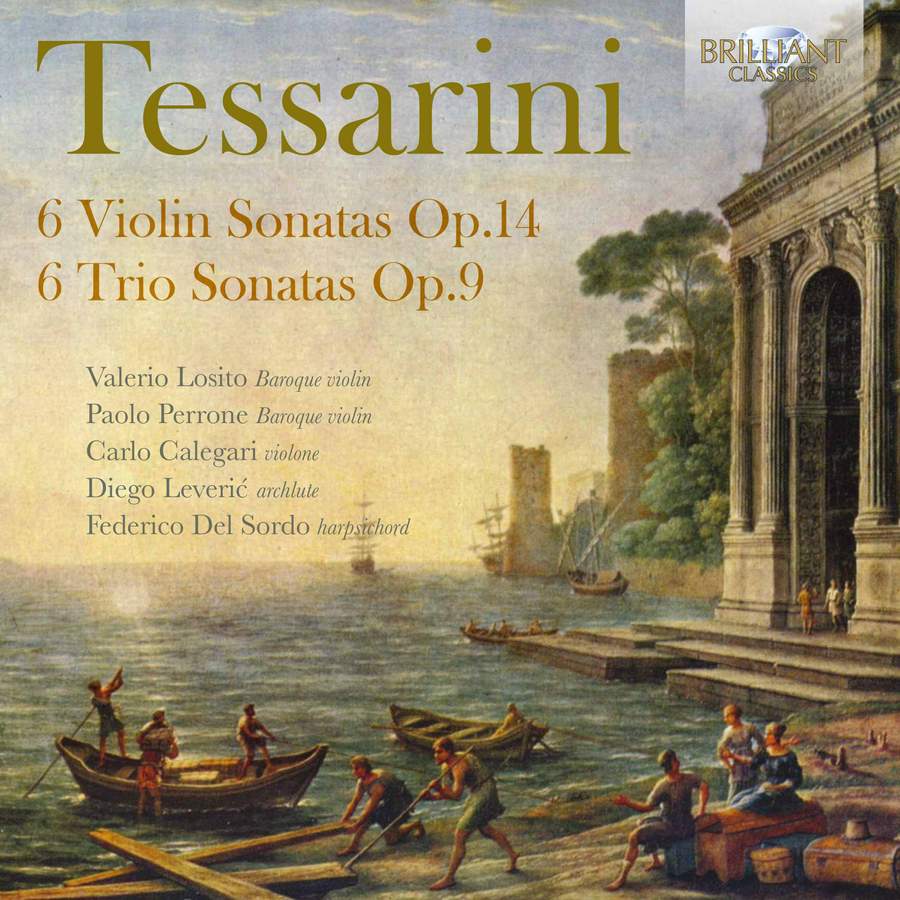 Sei sonate a violino ò flauto traversière e cembalo (Op.14 Venice, 1748)
6 Sonate da camera e chiesa a due violini e basso (Op.9 Paris, 1747)
Carlo Tessarini (1690-1767) is now a little-known Italian composer, but was famed in his day. He was born in Rimini and worked in Venice in the early part of his career, including such positions as violin master at the Ospedale dei Derelitti and a violinist in St. Mark's. Some of his music was published without permission in London and Amsterdam, so he started publishing his own editions in 1729. Although later notionally attached to in the chapel of the Holy Sacrament in Urbino for some 30 years, he travelled around many regions of Italy as well as Paris and London before finally moving to Amsterdam for the last nine years of his life.
The first CD includes the six Op.14 Violin Sonatas, all played by Valerio Losito with archlute, violone and harpsichord accompaniment. These were intended for violin or flute, and the writing reflects that dual potential, with a relatively simple compositional and performing technique. Three of the Sonatas are introduced by harpsichord Partimenti by the Neapolitan composer Fedele Fenaroli (1730-1818), played by Federico Del Sordo. Such Partimenti were short pieces built on a bass line that formed an essential part of music teaching in Naples, and were also used to form preludes to other pieces, as here.  
The second CD, with the six Op.9 Trio Sonatas, reflects an earlier period in Tessarini's life. He only seems to have written around 36 of them during his time in Venice and Urbino. It also includes two three-movement Divertimenti from Tessarini's Il Maestro e Discepolo, 6 Divertimenti da Camera a due violini (Op. 2, 1734). They seem to have been intended for didactic rather than performance purposes All the tracks on this 2nd CD are premiere recordings. The violin parts are shared between Valerio Losito and Paolo Perrone, with violone and harpsichord accompaniment.
The music is fairly mainstream Baroque fare, albeit with a touch of the forthcoming Galante style. I am not sure if it is the recording or the playing (which sometimes appears to lack subtlety), but there are times when it sounds a bit 'in your face' and acoustically boomy. For my taste, the violin playing of Valerio Losito is a little too mannered. His tendency to lean into notes results in rather too many little accents within a melodic line, like sailing on a choppy sea. 
The programme notes (all in English) can be accessed online. As well as one of the most complete introductions to Tessarini's available, there are detailed descriptions of each of the pieces and well as a comprehensive bibliography and list of sources.