Pour La Duchesse du Maine
Ensemble La Francaise
Polymnie ‎POL 503 134. 55′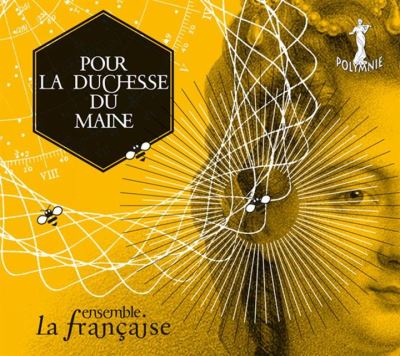 Bernier: Cantate Médée
Mouret: Concert de Chambre
Bourgeois: Cantate Ariane
This recording presents two cantatas and an orchestral suite representing the type of music enjoyed by the colourful Duchesse Du Maine (Louise Bénédicte de Bourbon) during the early years of the 17th-century. Unhappily married off at the age of 15 to the Duke de Maine, the legitimised son of Louse XIV and his mistress Mme de Montespan, the 'princess of the blood' saw the arrangement as a disgrace, and soon find ways to distance herself, not least by being pretty insulting to her husband (like her, suffering from a physical disability) and taking several lovers. In her mansion at Seaux (pictured below), she set up an alternative court and arranged lavish entertainments for which she became known as La Reine des Abeilles (Queen Bee).
The CD is intended as a tribute to the Duchess de Maine, and was performed as a show y the ensemble. The notes do note that the pieces were not specifically commissioned by the Duchess, and have no direct connection with the music of her court at the Château de Seaux. I don't know if there are specific records of the music from the court but, if so, it seems a shame that they were not included on this recording. But as it is, the CD's enticing title does reflect an interesting aspect of French court history.   Two of the three composers (Jean-Joseph Mouret and  Nicolas Bernier) were involved with the Duchess's musical life. Mouret was music teacher to the couple's children and 'ordinaire de la Musique de la duchesse du Maine'. He dedicated most of his music to the Duchess and her children. the Concert de chambre including on this recording dates from 1734, and is made up of an overture and a set of attractive dances.
Bernier's musical life was centred around the Sainte-Chapelle and Chapelle Royale in Versailles, but dedicated his 1715 collection Les Nuits de Sceaux to the Duchese de Maine. His Medea, included here, was composed sometime after 1703. Bourgeois seems to have had little, if any, direct connection with the Duchess's court, but his Médée does reflect the story of an abandoned woman.
Ensemble La Francaise was founded in 2013 by flautist Aude Lestienne, and includes violinist Shiho Ono, cellist Jean-Baptiste Valfré, Kazuya Gunjii, harpsichord, and Marie Remandet, vocals. This is their first recording, and they perform with a fine sense of period style and ornamentation. Marie Remandet sings the often dramatic cantatas with conviction although her occasional vibrato sometimes gets in the way of her ornaments and otherwise precise intonation. The notes are in French and English, with translations of the texts of the two cantatas. The recording was made in the Chapelle de l'Hôpital de Fourvière which possible has a slightly more generous acoustic than that of the chamber concerts at Seaux, but sounds fine. I think the Duchess (pictured above) would have approved.