César Franck: Trois Chorals
Tournemire: transcriptions from Franck's operas Hulda and Ghiselle
Yoann Tardivel, organ
HORTUS 147. 57:56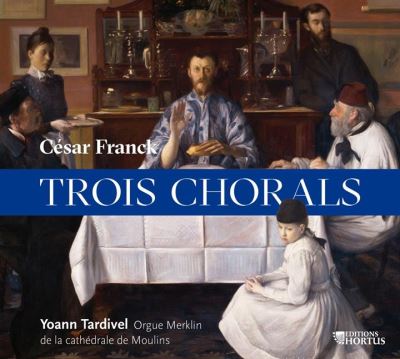 The Trois Chorals of César Franck rank amongst the highlights of both the French organ repertoire and the related instrument, the French 19th-century French symphonic organ, typified by the famed organ builder Cavaillé-Coll. They were one of the last works written just two months before he died, in 1890. Yoann Tardivel has won some impressive organ prizes. He takes an attractively reflected approach to his performance of the Three Chorales, avoided the look-at-me approach of some organists who see pieces like these as vehicles to demonstrate their own prowess, rather than demonstrating the music. Some of his speeds are a little slow by present-day standards, but this seems to add gravitas to his playing and is fine by me. He choice of registrations is excellent, and the recording is particularly well engineered with a solid bass. 
I do have problems with the CD notes, devoted to a rather rambling essay by Tardivel that is only marginally related to the music on the CD, and avoids much substantive mention of the Trois Chorals. Perhaps one extract will reinforce my point – "In these Chorales he pursues with an eternal youth his lasting endeavour of creating a drama out of form alone, turning the supposedly decorative instrument into the interpreter of the most heartrending romanticism." 
For some reason, there is also very little information about the organ chosen, but it is an interesting choice, not least for not being by Cavaillé-Coll. It is an instrument by the lesser-known builder Joseph Merklin in Moulins Cathedral, France, completed in 1880, and very little amended since. It was chosen as a cheaper option to the Cavaillé-Coll quotation, and remains the most substantial of Merklin's organs. It works extremely well in this repertoire. More information and a specification can be found here.
Another aspect of interest in this recording is the inclusion of three transcriptions by Charles Tournemire of extracts from Franck's unsuccessful operas, Hulda and Ghiselle. The three pieces form a three-movement Suite, reflecting the music of both distinguished composers. The Cortège des Fiancés and Chanson de l@Hermine from Hulda is followed by the  Prélude de l'acte II from Ghiselle – a particularly powerful piece.
So, an interesting recording on several levels, but listen first before you attempt to read the accompanying text.